Nissan compra el 34% de Mitsubishi Motors y el francés Ghosn, de Renault, presidirá la firma
Comentarios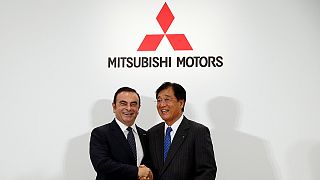 Nissan se hace con el 34 por ciento de Mitsubishi Motors y el patrón de Renault, Carlos Ghosn, se convierte en el presidente de su consejo de administración. Al rescate de la empresa japonesa de automóviles, tras el escándalo en abril pasado de la manipulaciones de datos sobre sus vehículos conocidas, su compatriota Nissan cierra así una operación de control de la empresa por 2.100 millones de euros.
Nissan strengthens alliance with acquisition of 34% stake in #Mitsubishi Motors | Read more: https://t.co/6h2Wl62XgUpic.twitter.com/NWZo5Lfqku

— Renault-Nissan (@TheAllianceRN) 20 d'octubre de 2016
En virtud de la alianza de Nissan con el francés Renault, Ghosn pasa a presidir el consejo de administración. Aunque Osamu Masuko conservará su puesto de director general en Mitsubishi Motors. Junto al ruso Autovaz, el grupo liderado por Renault sumará nueve millones y medio de unidades vendidas anualmente.
We're excited to have #Mitsubishi Motors join our family. Read more: https://t.co/24NW5yru62pic.twitter.com/uuFKWDyIui

— Renault-Nissan (@TheAllianceRN) 20 d'octubre de 2016