EEUU creció en el cuarto trimestre un 2,1%, gracias al gasto de los consumidores
Comentarios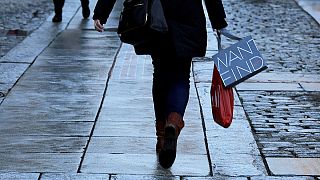 Estados Unidos creció en el cuarto trimestre del año pasado un 2,1 por ciento, dos décimas más que la estimación precedente. Para el conjunto de 2016, la progresión para el país se mantiene en el 1,6 por ciento, que es la más débil en cinco años.
Según una tercera estimación del departamento de Comercio, un mayor gasto al calculado anteriormente de los consumidores explica esta revisión al alza. En cambio, se ha revisado a la baja la inversión de las empresas mientras que las exportaciones cayeron más de los estipulado en un principio.
The updated figure on the economy's fourth quarter growth partly reflected more spending by consumers. https://t.co/YQ7kpM95MC

—

BEA

News (@BEA_News) 30 de març de 2017
Para 2017, la Reserva Federal pronostica un crecimiento prudente del 2,1 por ciento respecto al tres, tres y medio, de la nueva administración Trump.