Australia: 15.000 curiosos en el aeropuerto de Perth para ver de cerca el mayor avión del mundo
Comentarios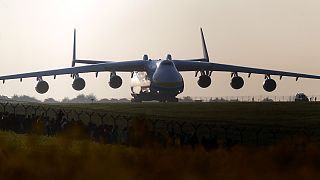 Unos 15.000 curiosos han acudido al aeropuerto australiano de Perth para ver de cerca el mayor avión del mundo. Se trata de un Antonov An-225, que ha aterrizado en Australia por primera vez.
El avión transportaba un generador de energía para una mina del estado de Australia Occidental. Despegó de Ucrania el pasado día 10, recogió el cargamento en Praga e hizo varias escalas técnicas: en Turkmenistán, la India y Malasia.
"El avión ha hecho varias paradas. Obviamente, el tamaño de la aeronave y el peso de la carga hacen que no pueda realizar una ruta tan larga, por lo que ha hecho cuatro paradas", ha declarado Fiona Lander, portavoz del aeropuerto de Perth.
#Mriya alias #An225 lost weight. 117t. The generator is ready to go to the refinery. pic.twitter.com/YV3VSCByzp

— Grit Hofmann (@grit_hofmann) 15 de mayo de 2016
(An-225 pierde peso. 117t. El generador está listo para ir a la refinería)
Este gigante del aire tiene más de 84 metros de longitud, más de 18 de altura y 32 ruedas. El Antonov An-225 fue construido por los soviéticos en la década de los 80 para transportar naves espaciales y otros cargamentos pesados. Su peso máximo de despegue es de 640 toneladas.