Interpol acepta a Palestina como Estado miembro
Comentarios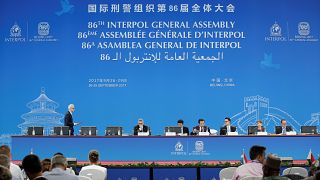 La Interpol aprueba el ingreso de Palestina como Estado miembro, a pesar de la fuerte oposición de Israel y Estados Unidos.
New member countries State of Palestine and Solomon Islands bring INTERPOL's membership to 192. #INTERPOLGApic.twitter.com/9LaggaQ6op

—

INTERPOL

(@INTERPOL_HQ) 27 septembre 2017
Fuentes palestinas aseguran que su candidatura ha contado con el apoyo de más del 75 por ciento de los miembros de la agencia policial internacional.
La votación ha tenido lugar durante su 86 asamblea general, celebrada en Pekín, que también ha admitido a las islas Salomón. El organismo cuenta a partir de ahora con 192 miembros.
Israel alegaba que Palestina no es un Estado, por lo que no puede ser elegida como tal. El Gobierno palestino se ha felicitado de este éxito , "a pesar ", ha dicho, de "los intentos de manipulación cínica y de abuso político", en clara referencia a Israel.
Israel works to thwart renewed Palestinian Authority bid to join Interpol https://t.co/c4OFgEPT4Lpic.twitter.com/8ilbmjFmQ0

— The Jerusalem Post (@Jerusalem_Post) 24 septembre 2017
Es otro importante paso para Palestina en la búsqueda de reconocimiento internacional. En 2012, la Asamblea General de la ONU la aceptó como estado observador. La Unesco la admitió como miembro en 2011, y la Corte Penal Internacional en 2015.