Twitter, la red social del pájaro azul se ha convertido en un medio de comunicación indispensable tanto para informarse como para la comunicación política como hemos podido observar tras la muerte de Nelson Mandela.
Este tuit de una periodista de la BBC fue el primero enviado con la etiqueta #Mandela la pasada noche cuando comenzó a difundirse que había una actividad "inhabitual" en la casa de la familia Mandela.
Reports of family meeting at Nelson #Mandela's home: http://t.co/PuGNRW6zb0 via @News24

— zenaida machado (@zenaidamz) December 5, 2013
"Informan de una reunión familiar en la casa de Nelson #Mandela"
El primer medio en anunciar la muerte de Mandela a través de Twitter fue la CBS, que citaba al presidente sudafricano Jacob Zuma.
Nelson #Mandela dies at 95, says South African President Jacob Zuma

— CBC News Alerts (@CBCAlerts) December 5, 2013
Nube de palabras con las principales reacciones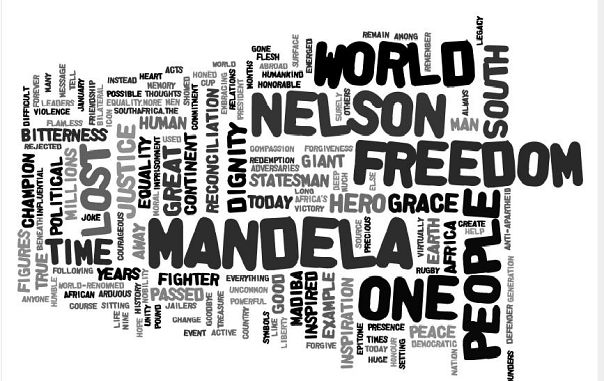 Personalidades políticas, del mundo de la cultura, religiosas y millones de ciudadanos se han apresurado a unirse en el duelo por la muerte de Madiba, convertido en una figura indispensable de la Hisoria Contemporánea.
Esta es una recopilación no exhaustiva de la diversidad de las reacciones.
Políticos
David Cameron ha sido uno de los primeros líderes mundiales en reaccionar a la muerte de Mandela, ante los medios y también en la red social Twitter. El primer ministro británico tuiteaba: Una gran luz se ha apagado en el mundo. Nelson Mandela era un héroe de nuestro tiempo. Hemos pedido que la bandera del número 10 [de Downing Street, su residencia oficial] ondee a media asta

PM: A great light has gone out in the world. Nelson Mandela was a hero of our time. I've asked for the flag at No10 to be flown at half mast

— UK Prime Minister (@Number10gov) December 5, 2013
Las reacciones se han multiplicado rápidamente y líderes de todas las tendencias, de todos los continentes se han apresurado a dar su pésame virtual por la desaparición de Nelson Mandela.
La Casa Blanca publicaba un sencillo "Descanse en Paz, Nelson Mandela" con una cita del presidente Obama sobre la importancia del hombre que "tomó la historia en sus manos". Barack Obama ha recordado que su primera acción política fue manifestarse contra el Apartheid. El presidente estadounidense siempre ha declarado que Madiba era uno de sus modelos.

Rest in peace, Nelson Mandela. pic.twitter.com/4qlqsXLp6e

— The White House (@WhiteHouse) December 5, 2013
President Obama on Nelson Mandela: "My first political action was a protest against apartheid. I studied his words and his writings."

— White House Live (@WHLive) December 5, 2013
El presidente del Gobierno español Mariano Rajoy:

Nelson Mandela: figura clave de la Historia reciente; ejemplo de lucha por la igualdad. En el corazón de todos. Hasta siempre, Madiba

— Mariano Rajoy Brey (@marianorajoy) 6 Décembre 2013
El presidente venezolano Nicolás Maduro:

En homenaje al Gigante Nelson Mandela decidí en nombre de toda Venezuela,decretar tres días de duelo en toda la Patria de Bolívar y Chávez!!

— Nicolás Maduro (@NicolasMaduro) December 5, 2013
Dilma Roussef, presidenta de Brasil:

O combate de #Mandela transformou-se em um paradigma para todos aqueles que lutam pela justiça, pela liberdade e pela igualdade.

— Dilma Rousseff (@dilmabr) December 5, 2013
Manmohan Singh, Premier ministre indien:

PM on Nelson Mandela : "A giant among men has passed away. This is as much India's loss as South Africa's. He was a true Gandhian."

— Dr Manmohan Singh (@PMOIndia) December 6, 2013
Abdullah Gül, président de la République de Turquie
https://twitter.com/cbabdullahgul

Nelson Mandela was a great statesman who inspired people in their quest for freedom, dignity and equality.

— Abdullah Gül (@cbabdullahgul) December 6, 2013
Hassan Rohani, président de la République islamique d'Iran

With a heavy heart, we say goodbye to Nelson Mandela. Surely, his legacy will remain a source of #inspiration and courage for all people.

— Hassan Rouhani (@HassanRouhani) December 6, 2013
François Hollande, presidente de la República francesa, a través de la cuenta oficial del Elíseo:
Les autorités françaises se sont également émues de la "perte" que représente la mort de Nelson Mandela.

"Nelson Mandela aura fait l'histoire. Celle de l'Afrique du Sud. Celle du monde tout entier." (François Hollande) http://t.co/9FHg5Xwfqd

— Élysée (@Elysee) December 5, 2013
En Alemania uno de los portavoces de la canciller Angela Merkel declaraba: "Lloramos a Nelson. Su mensaje de reconociliación y de rechazo a toda forma de racismo seguirán siendo fuente de inspiración"

Wir trauern um Nelson #Mandela - seine Botschaft der Versöhnung und der Absage an jeglichen Rassismus bleiben eine Inspiration.

— Steffen Seibert (@RegSprecher) December 6, 2013
Las instituciones europeas también han dado su pésame, y han publicado un video en YouTube que resume la relación de Mandela con la Unión EUropea
#Mandela changed course of history for his people, country, continent & the world. My thoughts are w/his family&people of #SouthAfrica/JMB

— José Manuel Barroso (@BarrosoEU) December 5, 2013
The world has lost a hero and an icon. A defender of freedom, justice and equality. An inspiration for millions. Goodbye #Mandiba.

— Martin Schulz (@MartinSchulz) December 5, 2013
Nelson #Mandela - one of the greatest political figures of our times. Let's honour his memory by collective commitment to democracy

— Herman Van Rompuy (@euHvR) December 5, 2013
"More than anyone else, Nelson #Mandela inspired my generation and our world" #EU High Rep Catherine #Ashton

— EU External Action (@eu_eeas) December 6, 2013
Para la formación política sudafricana Pour la formation politique de Mandela, l'ANC, l'Afrique du Sud a perdu "un colosse, une incarnation de l'humanité, de l'égalité, de la justice, de la paix et de l'espoir pour des millions de personnes" dans le pays et partout ailleurs.
Our nation has lost a colossus, an epitome of humility, equality, justice, peace & the hope of millions; here & abroad. #RIPNelsonMandela

— ANC Info Feed (@MyANC_) December 5, 2013
Organizaciones
La NASA:

In honor of Nelson Mandela, who died today, here is an image of South Africa from #ISS: https://t.co/JkwMuxcGm0pic.twitter.com/mdrNs2lHFH

— NASA (@NASA) December 5, 2013
Unión Africana:

Addis Ababa, Ethiopia – 6 December 2013 Africa is bereaved Madiba Nelson Rolihlahla Mandela, Pan African hero,... http://t.co/3c0O1XMcVE

— African Union (@_AfricanUnion) December 6, 2013
The life of Nelson Mandela is an education to us all – an example of moral clarity in promoting reconciliation&peace http://t.co/jkWhgrIWgi

—

UNESCO

(@UNESCO) diciembre 5, 2013
Deportes
Descansa en paz Nelson Mandela, has sido un ejemplo para todos nosotros. Mi más sentido pésame a la familia y amigos.

— Rafa Nadal (@RafaelNadal) 5 Décembre 2013
Los Springboks, la selección nacional de rugby sudafricana rinde homenaje a Mandela con este video:
==
El COmité Olímpico Internacional:

#RIPNelsonMandelapic.twitter.com/tRd3pbEz8u

— IOC MEDIA (@iocmedia) diciembre 5, 2013
Hoje estou entristecido demais. Nelson Mandela foi uma das maiores influências na minha vida. pic.twitter.com/1NLAOJhkpy

— Pelé (@Pele) December 5, 2013
One of the greatest human beings ever..May your soul rest in peace..The worlds greatest fighter… http://t.co/kriCCKM7Is

— Usain St. Leo Bolt (@usainbolt) December 5, 2013
Thankful Madiba for your legacy and your example. You"ll always stay with us. pic.twitter.com/IA72uYB6N4

— Cristiano Ronaldo (@Cristiano) December 5, 2013
Rest in peace Nelson Mandela, you have been a role model to the world. My most sincere condolences to family and friends.

— Rafa Nadal (@RafaelNadal) December 5, 2013
An inspiration to all of us. RIP Nelson Mandela. Thank you for everything you have done! pic.twitter.com/XJnb4xG4L0

— Robin van Persie (@Persie_Official) December 6, 2013
So sad to wake up to the news that Nelson Mandela has passed away. The man defined the word Survivor. RIP Madiba.

— Lance Armstrong (@lancearmstrong) December 6, 2013
My respects to an extraordinary person, probably one of the greatest humanists of our time: Nelson Mandela. http://t.co/0iLg06VUEU

— Joseph S Blatter (@SeppBlatter) 5 Décembre 2013
A hero is someone who has given his life for something bigger than oneself...The world lost a hero, Africa lost a father...RIP Mandela

— yaya toure (@Toure_yaya42) 5 Décembre 2013
May your soul rest in peace...@NelsonMandelapic.twitter.com/81eYpiVpx0

— Samuel Eto'o (@setoo9) 5 Décembre 2013
Deeply saddened by the news of Nelson Mandela's passing. A true hero and inspiration. Rest in peace Madiba.

— Chris Froome (@chrisfroome) 5 Décembre 2013
Ciudadanos anónimos
==
#RIPNelsonMandela Como un hombre que sufrió tantas injusticias, Podía sonreír de esa manera tan hermosa? Tengo tanto que aprender.

— Juanito Anaconda (@juanitoanaconda) diciembre 6, 2013
Para que mentirnos,desde peque adoraba todo lo que hizo este hombre,uno de los grandes ejemplos a seguir sin duda. #RIPNelsonMandela

— Macarena. (@Maacarenacf) diciembre 6, 2013
«El valiente no es quien no siente miedo, sino aquel que conquista ese miedo.» #NelsonMandela#Madiba

— Daily Romero (@ibomayakera) diciembre 6, 2013