Baltimore sigue pidiendo justicia para que no se repita el caso de Ferguson
Comentarios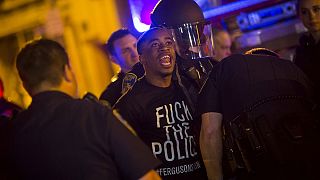 Baltimore ha sido escenario una noche más de enfrentamientos entre manifestantes y policía.Los agentes han llevado a cabo decenas de detenciones por violación del toque de queda establecido por las autoridades locales.
The emergency curfew will go into effect at 10pm tonight. It ends at 5am in the morning.

— Baltimore Police (@BaltimorePolice) May 3, 2015
En algunos casos usando una violencia al límite de la agresión (ver vídeo).
Man arrested by police bloodied #Baltimore#breakingpic.twitter.com/GHhN9kgIZH

— Darcy Spencer (@darcyspencer) May 3, 2015
Las autoridades locales han tomado la iniciativa para calmar los ánimos
La muerte del joven afroamericano Freddie Gray bajo custodia policial está detrás de la rabia de la población negra, que se siente discriminada y maltratada, principalemente por las fuerzas de seguridad.
Por el momento seis agentes están detenidos acusados de diversos cargos, lo que ha calmado un poco los ánimos. Los afroamericanos de Baltimore ven así como no se repiten de momento los casos de Ferguson, en Misuri, o Nueva York, donde la policía acabó con la vida de sendos jóvenes negros desarmados y por los que sin embargo ningún agente fue procesado. Se han llevado a cabo protestas pacíficas por la mañana con peticiones de que se haga justicia.
La actitud de las autoridades locales, con la alcaldesa Stephanie Rawlings-Blake a la cabeza, ha sido fundamental. Esta se ha reunido con la familia de Gray (en el primer tweet) y con los agentes (en el segundo) para tratar de evitar divisiones.
Honored and blessed to stand with the family of Freddie Gray to call for justice and for peace. We are #OneBaltimorepic.twitter.com/tv8ER13Lpw

— Mayor Rawlings-Blake (@MayorSRB) April 29, 2015
Thanked the BaltimorePolice</a> officers for their around the clock service over the past few days. <a href="https://twitter.com/hashtag/OneBaltimore?src=hash">#OneBaltimore</a> <a href="http://t.co/4cC0VrVeFP">pic.twitter.com/4cC0VrVeFP</a></p>&mdash; Mayor Rawlings-Blake (MayorSRB) April 29, 2015
Todos los ojos sobre Baltimore
Esta fotografía del camarógrafo puertorriqueño Edwin Torres pone de relieve la expectación mediática que este caso está despertando en Estados Unidos y en el mundo entero.
The mainstream press is giving you a very limited story in #BaltimoreProtestBaltoSpectator</a> <a href="http://t.co/D5FOQTI7w8">pic.twitter.com/D5FOQTI7w8</a></p>&mdash; Edwin Torres (Edwinjtorres) May 3, 2015
Entre la EE.UU. liberal la desigualdad empieza a ser un problema relevante. Una muestra es la portada del semanario New Yorker sobre Baltimore.
An early look at next week's cover, "Injustice: Baltimore, 2015," by mendelsund</a>: <a href="http://t.co/rDqnQ3lrzp">http://t.co/rDqnQ3lrzp</a> <a href="http://t.co/vUVlhg3tkV">pic.twitter.com/vUVlhg3tkV</a></p>&mdash; The New Yorker (NewYorker) May 1, 2015
La desigualdad en la ciudad es palmaria y se puede observar en estos tres mapas. El primero refleja el porcentaje de población negra (azul más intenso, mayor porcentaje). El segundo el nivel de renta (más intenso, mayor) y el tercero la tasa de desempleo.
These maps show the depth of Baltimore's inequality problem: http://t.co/USkwJzKeWUpic.twitter.com/sG52tUtf3i

— Business Insider (@businessinsider) April 29, 2015