Vela Extrema: The Wave Muscat y SAP Extreme comparten liderato en Sídney
Comentarios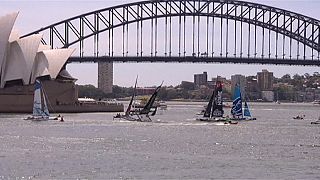 Segunda jornada de la etapa final en Sídney de las Series de Vela Extrema, no exenta nuevamente de incidentes. El mejor equipo del día fue The Wave Muscat con dos victorias. Estos triunfos auparon a la embarcación de Omán al coliderato temporalmente, junto con el hasta entonces líder en solitario, el SAP Extreme Sailing Team danés. Ambos conjuntos suman 83 puntos.
El podio de momento lo completa el Oman Air de Stevie Morrison, que se queda a tres puntos tras las doce carreras de esta segunda jornada…
En cuanto a los incidentes, el más espectacular lo protagonizó el equipo italiano Lino Sonego, cuya embarcación acabó literalmente bocabajo debido a un fuerte golpe de viento en la segunda regata. Los transalpinos pudieron recuperarse aunque son últimos con solo 39 puntos.
Watch LinoSonegoTeam</a> capsize on day two in Sydney. <a href="https://twitter.com/hashtag/exss?src=hash">#exss</a> <a href="https://t.co/IDvUz33aFf">pic.twitter.com/IDvUz33aFf</a></p>&mdash; Extreme Sailing (extremesailing) diciembre 11, 2015
Clasificación tras la segunda jornada
1- The Wave, Muscat (
OMA
) Leigh McMillan, Sarah Ayton, Pete Greenhalgh, Ed Smyth, Nasser Al Mashari 83 puntos. 2-
SAP
Extreme Sailing Team (
DEN
) Jes Gram-Hansen, Rasmus Køstner, Thierry Douillard, Mads Emil Stephensen, Brad Farrand 83 puntos. 3- Oman Air (
OMA
) Stevie Morrison, Nic Asher, Ted Hackney, Ed Powys, Ali Al Balashi 80 puntos. 4- Red Bull Sailing Team (
AUT
) Roman Hagara, Hans-Peter Steinacher, Lionel Vaucher, Shaun Mason, Stewart Dodson 71 puntos. 5- Team Turx (
TUR
) Mitch Booth, Edhem Dirvana, Selim Kakis, Diogo Cayolla, Pedro Andrade 70 puntos. 6- Gazprom Team Russia (
RUS
) Igor Lisovenko, Pavel Kalinichev, Pavel Karachi, Alexander Bozhko, Aleksey Kulakov 57 puntos. 7-
GAC
Pindar (
GBR
) Adam Minoprio, Seve Jarvin, Jeremy Lomas, James Wierzbowski, Tyson Lamond 42 puntos. 8- 33 South Racing (
AUS
) Katie Spithill, Matthew Chew, Stacey Jackson, Henry Kernot, Luke Payne 41 puntos. 9- Lino Sonego Team Italia (
ITA
) Enrico Zennaro, Pierre Pennec, Nevio Sabadin, Stefano Rizzi,Tom Buggy 39 puntos.