Las Indias Occidentales logran un histórico segundo mundial de Twenty20 de críquet
Comentarios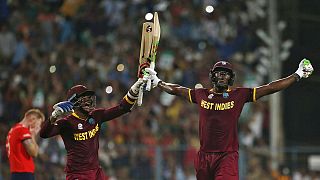 Las Indias Occidentales hacen historia. El combinado caribeño se ha proclamado campeón del mundial de críquet Twenty20 por segunda vez en la historia. Ningún equipo hasta la fecha había logrado el doblete en este torneo. Su primer título fue en 2010.
Los Windies se impusieron por cuatro wickets a Inglaterra, que llegaba también con opciones de lograr su segundo título. El marcador en el Even Gardens de Calcuta fue de 161-6 para las Indias Occidentales frente a 155 -9 de Inglaterra.
Celebration and party mode with 'Champion Dance' https://t.co/mwjEOX5ovd#WT20Final#ICCWT20#ENGvWI#WIvsEngpic.twitter.com/uDIDEwYFhE

— Cricket West Indies (@vCricketWI) 4 de abril de 2016
Marlon Samuels llevó a los suyos al triunfo con 85 carreras sin ser eliminado. Además, fruto de la tensión, fue multado tras el partido por usar lenguaje despectivo contra el jugador inglés Ben Stokes.
Las Indias Occidentales lograron además otro doblete, ya que su equipo femenino se proclamó campeón igualmente de la competición, tras derrotar a Australia.