Intercambio de prisioneros entre Rusia y Ucrania
Comentarios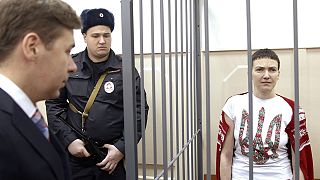 El presidente ucraniano, Petro Poroshenko, está de vuelta a Ucrania junto a la piloto Nadiya Sávchenko después de ser intercambiada por dos militares rusos amnistiados, según algunos medios ucranianos aunque aún no hay confirmación oficial. "Evgueni Erofeïev y Alexandre Alexandrov ya han abandonado el territorio ucraniano", según la abogada de Erofeïev, Oxana Sokolovska.
Poroshenko ha viajado hoy hasta la ciudad de Rostov donde permanecía encarcelada la piloto para dirigir el intercambio. Sávchenko fue condenada el pasado 22 de marzo de ser cómplice del asesinato de dos periodistas rusos durante el conflicto del este de Ucrania. La piloto llevaba presa un año y ocho meses.
El sitio especializado Conflict News asegura que Poroshenko está ya de vuelta y que Sávchenko se encuentra con él en su avión:
UPDATE: Reports now that Savchenko is on President Poroshenko's plane heading back to #Ukrainehttps://t.co/lef90z74gc

— Conflict News (@Conflicts) 25 mai 2016
El presidente ucraniano dará una conferencia de prensa hacia las 14:15, hora central europea. Sigan el directo en Euronews.