Una ola de calor provoca decenas de incendios en California
Comentarios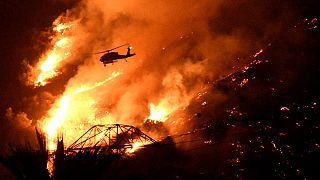 Una gigantesca columna de humo que se puede ver a kilómetros de distancia. Es la consecuencia de varios incendios forestales que están azotando al noroeste de la ciudad de Los Ángeles, en Estados Unidos. Es tal su magnitud que las autoridades han emitido una advertencia por la mala calidad del aire
La virulencia de las llamas y su proximidad a un núcleo de casas en Azusa ha llevado a las autoridades, en las últimas horas, a evacuar a sus residentes.
Mandatory evacuation for all #MOUNTAINCOVE residents at this time. Multiple agencies are evacuating now

— Azusa Police (@AzusaPD) 20 de junio de 2016
Los servicios de emergencia trabajan sin descanso. Temen que los dos últimos fuegos en Azusa y Duarte, separados por apenas once kilómetros de distancia, puedan llegar a juntarse.
Remember, drones are not allowed near the #ReservoirFire and #FishFire. pic.twitter.com/hNCyphNTYf

— Angeles_NF (@Angeles_NF) 21 de junio de 2016
A los centenares de bomberos que trabajan sobre el terreno se han unido helicópteros y aviones cisterna pero las labores de extinción se están viendo dificultadas por las altas e inusuales temperaturas. Los termómetros han llegado a superar los treinta y siete grados en el sur de California.