Isabel II celebra su cumpleaños más "sombrío"
Comentarios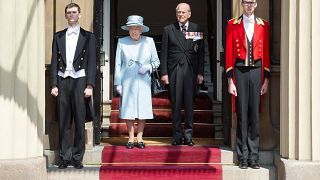 La reina Isabel II ha celebrado su 91 cumpleaños en un ambiente de recogimiento.
La ceremonia oficial de su aniversario ha comenzado con un minuto de silencio en el Palacio de Buckingham.
Tras los atentados de Manchester y Londres y el incendio del torre Grenfell, la reina reconoció hoy en un comunicado que es difícil no sentir el ánimo "sombrío" del país.
A message from The Queen on Her Majesty's Official Birthday. https://t.co/vaKt5qj7IZpic.twitter.com/Tv7t9aB3PV

— The Royal Family (@RoyalFamily) June 17, 2017
No obstante se ha mantenido la tradición de que la reina salga en carroza del palacio para acudir a la sede de la guardia real y asistir al desfile conocido como "Trooping the Colour".