Trump minimiza las imputaciones de colaboradores en la trama rusa
Comentarios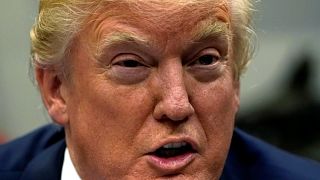 El presidente de Estados Unidos minimiza el papel de George Papadopoulos en la investigación de la trama rusa.
En una rueda de prensa en la Casa Blanca, Trump ha eludido las preguntas sobre la culpabilidad de su exasesor, imputado por mentir sobre sus contactos con personajes cercanos al Kremlin .En una serie de tuits, Trump se ha dirigido a Papadopoulos como "un mentiroso" al que nadie conocía en su campaña.
….came to the campaign. Few people knew the young, low level volunteer named George, who has already proven to be a liar. Check the DEMS!

— Donald J. Trump (@realDonaldTrump) 31 de octubre de 2017
En cuanto al exdirector de campaña Paul Manafort y a su socio Rick Gates, que se entregaron al FBI por conspiración contra Estados Unidos, el presidente afirma, igualmente, en su cuenta de Twitter, que los hechos se produjeron antes de la campaña electoral.
El lune sse supo que Papadopoulos había sido imputado por el fiscal Robert Mueller en la investigación de la trama rusa. El joven asesor mantuvo contactos con al menos dos ciudadanos rusos que le prometieron información comprometedora sobre Hillary Clinton y, al menos unos de ellos tenía lazos con el ministerio de Exteriores ruso. Papadopoulos mintió sobre esas reuniones y por eso ha sido imputado.
La agencia Associated Press ha confirmado la identidad de dos hombres, Joseph Mifsud e Ivan Timofeev, que se entrevistaron con Papadopoulos durante una conferencia en el club Valdai.