Muere Ben E. King, célebre por su canción "Stand by Me"
Comentarios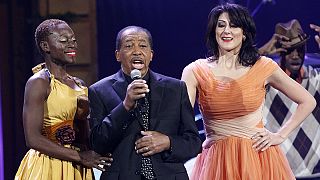 Muere Ben E. King, estrella del soul estadounidense conocida, sobre todo, por este tema Stand by Me.
Falleció el jueves a los 76 años por problemas coronarios en Nueva Jersey.
Benjamin Earl Nelson había comenzado su carrera artística a finales de los años cincuenta con el grupo The Drifters, con éxitos como There Goes My Baby o Save The Last Dance For Me.
Ya en solitario, alcanzó el número uno de las listas con Stand by Me en 1961. Ha sido, en sus múltiples versiones, la cuarta canción más escuchada del siglo veinte en la radio y televisión de su país.
El artista, nacido en Carolina del Norte, creo una fundación con el nombre del célebre tema para ayudar a jóvenes con talento y sin recursos.
Nada más conocer su desaparición, amigos y admiradores han comenzado a rendirle homenaje en las redes sociales.