Arranca en Sídney la última etapa de las Series Extremas de Vela
Comentarios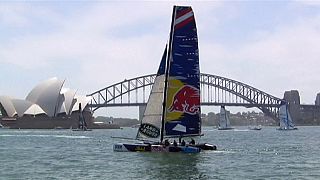 La primera jornada estuvo salpicada de colisiones y únicamente seis de las nueve embarcaciones iniciales lograron terminar. El triunfo fue para el SAP Extreme Sailing Team danés, que capitaneado por Jes Gram-Hansen, sumo 67 puntos. Segundo fue Oman Air, de Stevie Morrison, con 63. Completó el podio la embarcación dirigida por Leigh McMillan, The Wave, Muscat, empatada igualmente con 63.
Cabe destacar además la quinta plaza del Red Bull Sailing Team, que logró terminar tras un choque con Gazprom Team Russia. Al principio se pensaba que era un simple roce, pero tras analizarlo detenidamente, descubrieron que el daño afecta al 30% de la estructura.
Clasificación
1. SAP Extreme Sailing Team (DEN) Jes Gram-Hansen, Rasmus Køstner, Thierry Douillard, Mads Emil Stephensen, Brad Farrand – 67 puntos.
2. Oman Air (OMA) Stevie Morrison, Nic Asher, Ted Hackney, Ed Powys, Ali Al Balashi 63 puntos.
3. The Wave, Muscat (OMA) Leigh McMillan, Sarah Ayton, Pete Greenhalgh, Ed Smyth, Nasser Al Mashari 63 puntos.
4. Team Turx (TUR) Mitch Booth, Edhem Dirvana, Selim Kakis, Diogo Cayolla, Pedro Andrade 59 puntos.
5. Red Bull Sailing Team (AUT) Roman Hagara, Hans-Peter Steinacher, Lionel Vaucher, Shaun Mason, Stewart Dodson 53 puntos.
6.Gazprom Team Russia (RUS) Igor Lisovenko, Pavel Kalinichev, Pavel Karachi, Alexander Bozhko, Aleksey Kulakov 36 puntos.