A cuatro días del referéndum, el No al 'brexit' encabeza los sondeos
Comentarios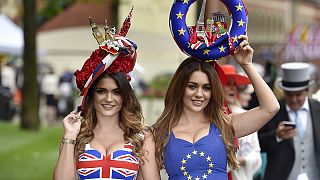 A cuatro días del referéndum sobre el brexit, el campo de los partidarios de permanecer en la Unión Europea (UE) va en cabeza, según varios sondeos.
Una encuesta elaborada para el diario escocés The Herald, dice que un 46% de los británicos está a favor de permanecer en la familia europea, frente a un 43% que aboga por abandonarla. También revela que hay un 11% de indecisos. El sondeo fue realizado entre el 10 y el 15 de junio, antes del asesinato de la diputada laborista Jo Cox.
El diario Mail on Sunday respalda al campo de los que quieren quedarse en los Veintiocho, con el primer ministro David Cameron a la cabeza.
Tomorrow's Mail on Sunday: "For a safer, freer, more prosperous – and yes, an even Greater Britain: Why we urge you to vote Remain." #EUref

— David G Rose (@DRoseMoS) 18 juin 2016
The Sunday Times, sin embargo, se muestra a favor del brexit en su editorial de este domingo. El periódico dice que apoya la idea sugerida por uno de los principales defensores del brexit, el exalcalde de Londres Boris Johnson, de que se lleve a cabo un segundo referéndum después de nuevas negociaciones con Bruselas, para llevar a cabo una reforma más profunda.
The Sunday Times says vote leave on June 23 #eurefhttps://t.co/9DIGaCwTHwpic.twitter.com/VpKeuYln66

— The Sunday Times (@thesundaytimes) 18 de junio de 2016
Los mercados financieros están alerta y la tensión crece a medida que se acerca el 23 de junio, día del referéndum. Los sondeos que hasta ahora mostraban en cabeza al campo del brexit han tenido por efecto el debilitamiento de la libra esterlina.