Las fuerzas de seguridad de Bangladesh asaltan la cafetería donde había rehenes
Comentarios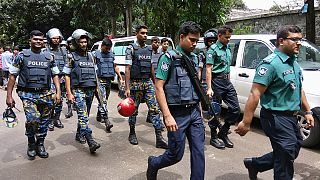 A primera hora de la mañana de este sábado las fuerzas de seguridad del país asiático comenzaron el asalto al negocio donde estaban retenidas una veintena de personas por un grupo armado que parece estar vinculado al grupo yihadista Estado Islámico.
#GulshanAttack: At 7:40am, joint forces begin offence against the assailants in Holey Artisan Bakery in Gulshan https://t.co/1U1hy52d8n

— The Daily Star (@dailystarnews) 2 juillet 2016
Muchos de los retenidos son extranjeros porque la conocida panadería en la que se sucedieron los hechos está en el barrio diplomático de Gulshan, en la ciudad de Dacca.
Local authorities are on the scene & responding to shooting & hostage situation at Holey Bakery in Gulshan-2, Dhaka. https://t.co/97t7l7CYPw

— Travel – State Dept (@TravelGov) 1 juillet 2016
Tras el asalto numerosos contingentes de fuerzas de seguridad se desplazaron al lugar y se iniciaron tiroteos con los atacantes.
Hasta el momento seis personas fueron rescatadas y siete personas murieron.