Andrea Leadsom anuncia su candidatura para liderar el partido conservador del Reino Unido
Comentarios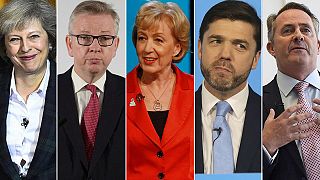 Esta mujer, de 53 años, es la menos conocida de los aspirantes.
Entró en le Parlamento en las elecciones de 2010 y ocupa la Secretaría de Estado de Energía.
Licenciada en Políticas, hizo una fuerte campaña a favor de la salida del Reino Unido de la Unión Europea.
Andrea Leadsom decía durante la rueda de prensa:
"Ha sido una gran decisión, presentarme para liderar nuestro país. Lo que me condujo a esto es que tengo absoluta convicción de que nuestro futuro y el de nuestros hijos y nietos va a ser mucho mejor fuera de la Unión Europea".
Excited to be launching my bid today to take our great country forward! #FreshStart

— Andrea Leadsom MP (@andrealeadsom) 4 juillet 2016
Su rival más directa es Theresa May, Ministra de Interior desde 2010, la nueva "Dama de Hierra" del Gobierno.
Please join my campaign & let's rebuild a country that works for everyone who was born here https://t.co/KXW9ppZxBbpic.twitter.com/7YCtCcWnyp

— Theresa May (@TheresaMay_MP) 30 juin 2016
Otro de los candidatos entre los euroescépticos es Liam Fox, exministro de Defensa.
My #AWorldOfOpportunity#Conservatives leadership speech is now available. Watch in full on YouTube https://t.co/aDT52rp2JT

— Dr Liam Fox MP (@LiamFoxMP) 3 juillet 2016
Gove es el Ministro de Justicia del Reino Unido. Un político que hizo campaña con Boris Johson a favor del "brexit".
Join me in my campaign and together we will lead this country forward: https://t.co/FtwIbM6kRr#Gove2016pic.twitter.com/VISwy1Lw4D

— Michael Gove MP (@Gove2016) 2 juillet 2016
Y por último Stephen Crabb, ministro de Trabajo y Pensiones que en cambio está a favor de que el Reino Unido siga formando parte de la Unión Europea.
Massive challenges to face in improving life chances for many minority groups but we do need new thinking like this- https://t.co/5R8Asi5CwE

— Stephen Crabb (@scrabbmp) 3 juillet 2016
Uno de estos cinco candidatos será el nuevo líder conservador y primer ministro británico después de la dimisión de David Cameron tras el triunfo del "brexit".