Ciudadanos de todo el mundo se solidarizan con Francia
Comentarios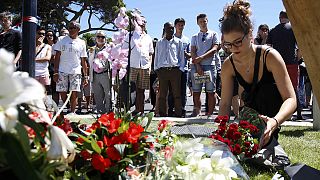 Cientos de personas han encendido velas en Sídney, Australia, en solidaridad con Francia por este último atentado que se ha cobrado la vida de 84 personas.
Candles burn for #France in #Sydney's #MartinPlace tonight. #BastilleDay attack latest on #7News & #Sunrise from 6am pic.twitter.com/Ni0n50tSYV

— Paul Kadak (@PaulKadak) 15 de julio de 2016
The French flag flies next to Australian flag on Sydney Harbour bridge in solidarity with France #NiceAttackAFP</a> <a href="https://t.co/BVIsAMbOPn">pic.twitter.com/BVIsAMbOPn</a></p>&mdash; Getty Images News (GettyImagesNews) 15 de julio de 2016
Entre los asistentes había también muchos ciudadanos franceses, que sufren desde la lejanía los ataques que ha sufrido su país en los últimos meses.
"Estamos aquí porque estamos lejos de nuestro país, no podemos decirles que les apoyamos, que les queremos, que estamos muy lejos para eso, que estamos hartos. Esto tiene que parar, queremos a nuestro país. Queremos a los franceses y esto tiene que parar, estamos hartos", decía entre lágrimas una joven francesa.
Ha habido homenajes y recuerdo a las víctimas en otras ciudades. Numerosos ciudadanos rusos se concentraron en el exterior de la embajada francesa en Moscú donde depositaron velas y flores. Entre los fallecidos en Niza había también una persona de nacionalidad rusa.
Moscow Mourns Victims of Nice Attack At French Embassy https://t.co/PrKzOIQW0I#PrayForNice#Russia#Francepic.twitter.com/Xd8hOetqD5

— The Moscow Times (@MoscowTimes) 15 de julio de 2016
La misma escena se ha visto en Berlín. Muchas banderas francesas y europeas ondean a media asta en solidaridad con Francia.
Embassy of France in #Berlin#NiceAttackpic.twitter.com/N7FqCjlXuW

— achim wagner (@ach_im) 15 de julio de 2016