Cristiano Ronaldo recibe el premio al mejor jugador del año de la UEFA 2016/17
Comentarios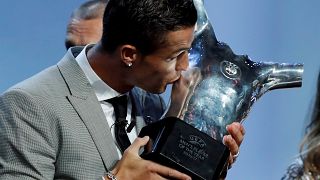 Cristiano Ronaldo es el mejor jugador de Europa por segundo año consecutivo. El delantero del Real Madrid recogió este jueves dos premios de manos del presidente de la UEFA, el de mejor delantero y el de mejor futbolista, adelantando así a Leo Messi, que acumula dos coronas europeas de fútbol, mientras que Ronaldo ya tiene 3.
Thanks to my teammates, coaches and staff who helped me win this trophy. I dedicate this to my family, friends and fans. This is also yours! pic.twitter.com/f9CIPyuYnX

— Cristiano Ronaldo (@Cristiano) 24 août 2017
Este premio es la guinda de un año excepcional, con la duodécima champions con el Madrid, la liga española y el título como mejor futbolista de la FIFA.