Yiannis Varufakis: ministro, griego y 'rockstar'
Comentarios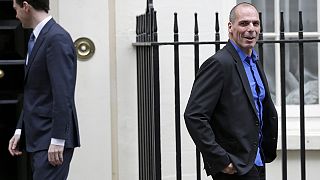 Más de 15.000 seguidores tiene la página de facebook que reza "V for Varufakis", parodiando el famoso cómic de Alan Moore que inspiró la imagen de la organización de piratas informáticos 'Anonymous'.
yanisvaroufakis</a> <a href="https://twitter.com/hashtag/Syriza?src=hash">#Syriza</a> <a href="https://twitter.com/hashtag/VforVaroufakis?src=hash">#VforVaroufakis</a> <a href="https://twitter.com/hashtag/Varoufakis?src=hash">#Varoufakis</a> <a href="http://t.co/tOBg94Vgq9">pic.twitter.com/tOBg94Vgq9</a></p>&mdash; Nick Ramses (ramses_v2) February 2, 2015
El ministro de Finanzas heleno está de gira por Europa y en apenas en una semana, la que lleva en el cargo, ya ha levantado tanta polvareda por sus opiniones de economista como por su estética y actitud. Todo empezó con esta foto, en la que Varufakis llegaba en moto al palacio del primer ministro. Ya se auguraba un estilo distinto en una cartera normalmente ocupada por una personalidad gris y tecnócrata.
That's #Greece's new finance minister Yanis #Varoufakis's motorbike in front of PM #Tsipras' office v/iefimerida</a> <a href="http://t.co/obWwQqqyzU">pic.twitter.com/obWwQqqyzU</a></p>&mdash; Damian Mac Con Uladh (damomac) January 30, 2015
A su primera reunión importante, con el presidente del eurogrupo, Jeroen Dijsselbloem, se presentó sin corbata, y tuvo un final abrupto con incómodo apretón de manos incluido. Nada parecido a las buenas relaciones del holandés con sus predecesores.
#Dijsselbloem, new Greek minister of Finance #Varoufakis and former minister of Finance #Hardouvelis in pictures pic.twitter.com/0C9nlyIq6v

— Frederiek Lommen (@frederieklommen) January 30, 2015
Varufakis busca aliados en Europa. Ha viajado ya a Francia e Italia. Así se ha presentado a la reunión con el ministro del Tesoro británico George Osbourne.
This is how all finance ministers should dress. Greece's Yanis Varoufakis meets George Osborne at 11 Downing St pic.twitter.com/rR3QrcknP1

— Toby Harnden (@tobyharnden) February 2, 2015
En el mundo anglosajón, de hecho, se han vuelto locos con su chaqueta de cuero y con su estilo.
Is Yanis Varoufakis the coolest finance minister ever? http://t.co/zpusEHVvFUpic.twitter.com/muvxDAo1JN

— HuffPostUK Pictures (@HuffPostUKPics) February 2, 2015
¿Tendrán tanto éxito entre los europeos sus propuestas económicas?