Trump acusa a Cruz de 'robarle' la victoria en Iowa
Comentarios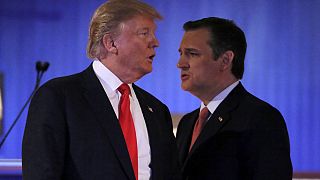 Donald Trump calienta las primarias republicanas en New Hampshire al acusar a Ted Cruz de 'robarle' la victoria en Iowa. El millonario candidato asegura que el equipo de Cruz difundió el rumor de que Ben Carson se había retirado y eso le permitió recoger los votos necesarios para superarle.
The State of Iowa should disqualify Ted Cruz from the most recent election on the basis that he cheated- a total fraud!

— Donald J. Trump (@realDonaldTrump) February 3, 2016
Ted Cruz por su parte saborea la victoria aunque no quiere perder paso. Ha desmentido las acusaciones de Trump y le ha respondido con dureza: "Me levanto cada día y me río con lo que ha 'tuiteado' Donald. Porque desvaría. Miren, necesitamos un comandante en jefe, no un 'tuitero' jefe. Necesitamos alguien con juicio y temperamento para mantener este país seguro", ha insistido.
Yet another #Trumpertantrum… realDonaldTrump</a> very angry w/the people of Iowa. They actually looked at his record. <a href="https://t.co/S85mxlhLK1">https://t.co/S85mxlhLK1</a></p>&mdash; Ted Cruz (tedcruz) February 3, 2016
Tras el abandono de dos candidatos a la presidencia tras Iowa, Rand Paul y Rick Santorum, aún quedan 9 contendientes. Además de Cruz y Trump la de Marco Rubio se consolida y empieza a perfilarse como la preferida por los 'barones' del partido.