Visita sorpresa del secretario de Defensa estadounidense a Irak
Comentarios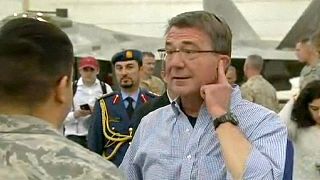 Ash Carter podría ofrecer más ayuda y efectivos a las fuerzas iraquíes para luchar contra el grupo Estado Islámico. A lo largo de este lunes se reunirá con responsables políticos y militares iraquíes para discutirlo.
#SecDef arrives in Iraq at key moment in campaign to defeat ISIL Meetings with PM, MoD and US troops pic.twitter.com/SHn2O1XHs9

— Peter Cook (@PentagonPresSec) 18 de abril de 2016
Por el momento Estados Unidos cuenta con casi cuatro mil militares en Irak, la mayoría entrenando a las fuerzas iraquíes, y lidera la coalición internacional que bombardea objetivos yihadistas en Irak y Siria.
El próximo gran objetivo del Gobierno iraquí es recuperar Mosul, la segunda mayor ciudad del país que se encuentra bajo el control de los yihadistas. La semana pasada, apoyado por los bombardeos aéreos estadounidenses, consiguió recuperar la ciudad de Hit en la región de Al Anbar.