Trump y Clinton parten como favoritos en las primarias de Nueva York
Comentarios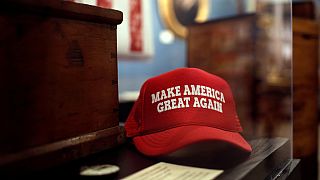 El estado de Nueva York celebra este martes las elecciones primarias más decisivas de las últimas décadas y que podrían definir el futuro de la carrera hacia la Casa Blanca.
En el caso de los demócratas, el senador Bernie Sanders, va ganando cada vez más terreno a su rival Hillary Clinton. Un sondeo publicado este martes indica que la diferencia entre ambos es de tan solo dos puntos porcentuales, respecto a los 60 que mantenían al inicio de la campaña electoral.
What you'll find in my tax returns is that I made less in one year as a U.S. Senator than Sec. Clinton did in one speech to Wall Street.

— Bernie Sanders (@BernieSanders) 18 de abril de 2016
Sin embargo, las encuestas dan la victoria en Nueva York a Clinton, que fue senadora de este estado durante casi ocho años.
Every Republican presidential candidate would reverse POTUS</a>'s executive actions on immigration. <a href="https://t.co/UejylRk2Qb">https://t.co/UejylRk2Qb</a> <a href="https://twitter.com/hashtag/FightForFamilies?src=hash">#FightForFamilies</a></p>&mdash; Hillary Clinton (HillaryClinton) 19 de abril de 2016
En el lado republicano, Donald Trump sigue manteniendo una cómoda ventaja ante su inmediato perseguidor, el senador por Texas Ted Cruz.
El empresario está convencido de que ganará en Nueva York y ha vuelto a repetir su discurso de campaña, que quiere una nación grande y con fronteras seguras.
New York, we will make America great again! https://t.co/KyxbaW4fsL

— Donald J. Trump (@realDonaldTrump) 18 de abril de 2016
Las encuestas también están a su favor y le dan como favorito, seguido del gobernador de Ohio, John Kasich, con menos de la mitad en intención de voto.
"Don't let anyone tell you John Kasich can't win the Republican nomination." https://t.co/4YDDMscsI9

— John Kasich (@JohnKasich) 19 de abril de 2016
Ted Cruz, que se muestra convencido de que será él el que logre unir al partido para derrotar a Trump, es tercero y último en intención de voto.
I've released 9 years of tax returns. RT if you agree it's time for Donald Trump to release his! https://t.co/08whtFVC0r

— Ted Cruz (@tedcruz) 19 de abril de 2016