Un "incidente químico" obliga a evacuar un aeropuerto de Londres
Comentarios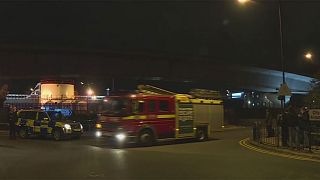 Alarma en un aeropuerto de Londres.
El London City Airport, en la capital británica, recupera la normalidad después de que se evacuara a los 500 viajeros y empleados de sus instalaciones por un incidente químico aún no especificado durante la tarde del viernes.
26 personas fueron tratadas por los servicios de emergencia al sufrir problemas respiratorios y dos fueron trasladadas al hospital.
whether it was the result of an accidental discharge of the spray.
The airport was declared safe and reopened at approximately 1900.

— London City Airport (@LondonCityAir) 21 de octubre de 2016
Un twitter del aeropuerto afectado habla de la posibilidad de que el incidente se deba a una carga accidental de un aerosol.
Muy utilizado por los ejecutivos debido a su proximidad al centro financiero de la ciudad, el aeropuesto suspendió todos sus vuelos, que ya vuelven a operarse.
Policía y bomberos realizaron dos inspecciones al edificio antes de declararlo seguro.