Trump define su política exterior a golpe de tuit
Comentarios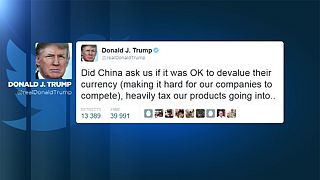 Ayer, el presidente electo de Estados Unidos arremetió nuevamente contra China por su política de devaluación del yuan y por tasar las exportaciones estadounidenses. Mensajes dos días después de que China protestara formalmente por la llamada que hizo Trump a la presidenta de Taiwán.
Did China ask us if it was OK to devalue their currency (making it hard for our companies to compete), heavily tax our products going into..

— Donald J. Trump (@realDonaldTrump) 4 décembre 2016
Un contacto que echó por tierra cuatro décadas durante las cuales Estados Unidos evitó contactos directos para no dañar sus relaciones con China que considera a la isla parte de su territorio.
Desde el gabinete del presidente chino se ha intentado limar asperezas asegurando que el gobierno taiwanés no tiene la más mínima intención de volver "al anterior sendero de antagonismos" con China.
Trump no se ha quedado ahí y, en otro tuit, ha criticado a China por construir complejos militares en el mar de China oriental. Las disputas por el control de algunas islas reclamadas por otros países vecinos es otro tema de orden militar en el que Estados Unidos se implica cada vez más.
their country (the U.S. doesn't tax them) or to build a massive military complex in the middle of the South China Sea? I don't think so!

— Donald J. Trump (@realDonaldTrump) 4 décembre 2016