Barack Obama conmuta la pena a la exsoldado Chelsea Manning
Comentarios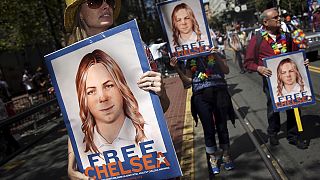 Chelsea Manning saldrá de prisión de próximo 17 de mayo.
En sus últimas horas en la presidencia de EEUU, Barack Obama ha anunciado la conmutación de la pena a la exsoldado que en 2010 filtró un número récord de documentos secretos a WikiLeaks cuando era analista de inteligencia militar. Cuando fue condenado a 35 años de cárcel Manning se llamaba Bradley y era varón. Poco después cambió de nombre y de sexo.
El martes Obama conmutó las sentencias de 209 presos e indultó a otros 64. En el caso de Manning, por sus muestras de arrepentimiento y su reconocimiento de que puso en peligro la seguridad de Estados Unidos.
Edward Snowden ha celebrado el anuncio de la liberación de Manning. En cuanto a él parece poco probable que Obama vaya a garantizarle el perdón.
Let it be said here in earnest, with good heart: Thanks, Obama. https://t.co/IeumTasRNN

— Edward Snowden (@Snowden) 17 de enero de 2017
También ha celebrado la gracia presidencial Wikileaks, la plataforma de filtraciones en la que se publicaron los
700.000 documentos secretos sobre las guerras de Irak y Afganistán que Manning les entregó.
VICTORY: Obama commutes Chelsea Manning sentence from 35 years to 7. Release date now May 17. Background: https://t.co/HndsbVbRer

— WikiLeaks (@wikileaks) 17 de enero de 2017
El entonces soldado, también filtró los llamados Papeles del Departamento de Estado, 250.000 documentos sobre las comunicaciones internas de la diplomacia estadounidense.