EEUU se prepara para la investidura de Donald Trump
Comentarios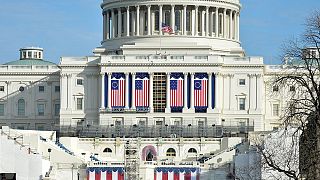 Todo listo para la investidura de Trump en Washington.
Y todo listo también para las protestas que prometen aguarle la fiesta el vienes al presidente número 45 de Estados Unidos. Además del anunciado boicot de una treintena de legisladores demócratas a la ceremonia, hay varias movilizaciones organizadas en Washington y otras ciudades.
Trump, una vez más en Twitter, aparece tranquilo a escasos horas del inicio de los actos que darán inicio a su mandato.
Writing my inaugural address at the Winter White House, Mar-a-Lago, three weeks ago. Looking forward to Friday. #Inaugurationpic.twitter.com/S701FdTCQu

— Donald J. Trump (@realDonaldTrump) 18 de enero de 2017
Aunque, el cartel de artistas invitados se ha reducido considerablemente por el miedo de los cantantes al repudio público. Así que los festejos tras el juramento tendrán menos brillo del que esperaba el magnate neoyorquino.
¿Cuánto costará la investidura? La fórmula escrita que convertirá a Trump en presidente son 35 palabras. Los gastos, en cambio, se cuentan en millones. Según el New York times el acto de inauguración de la nueva administración puede alcanzar los 200 millones de dólares, sobre todo por los gastos en seguridad.