Bagdad niega que la matanza de civiles en Mosul Oeste la provocara un bombardeo de EEUU
Comentarios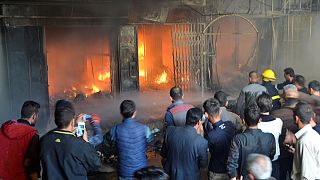 El EI regresa al Este de Mosul.
Un ataque con morteros contra el mercado de Nabi Yunis mató el domingo a dos personas y dejó varios heridos.
Los combatientes del llamado Estado Islámico habrían disparado los proyectiles desde la parte que todavía controlan en la otra orilla del Tigris, en el oeste de la ciudad.
Terror attack in eastern #Mosul. Da'ish fired mortars from the western side of the city on the Nabi Younis market on the eastern side. pic.twitter.com/tPOaTSVfxA

— Musti Obaid (@MustiObaid) March 26, 2017
La mitad oriental de Mosul está en manos del Ejército y la Policía iraquíes, que han debido frenar su avance para expulsar a los yihadistas del sector occidental tras un bombardeo la semana pasada. Testigos y responsables locales iraquíes acusan a la coalición internacional de lanzar las bombas que mataron a más de 130 personas, aunque según el Ejército, el bloque de edificios destruido en el barrio de Al Yadida no fue alcanzado en un bombardeo, sino dinamitado por los yihadistas.