Hallados en Marruecos los primeros 'Homo sapiens'
Comentarios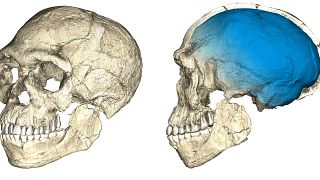 La cuna de la humanidad ya no está en Etiopía, sino en Marruecos. Así lo anunció este miércoles la revista Nature tras los hallazgos en el yacimiento de Jebel Irhoud de restos de 'Homo sapiens' de 300.000 años de antigüedad. Los fósiles hallados por el equipo del paleoantropólogo Jean-Jacques Hublin retrasarían en 100.000 años el origen de nuestra especie.
"Lo que hay valorar siempre es el momento y el lugar", recuerda el profesor Hublin. "Ahora parece que el momento es mucho más anterior de lo que pensábamos. El 'Homo sapiens' no tiene 200.000 años sino probablemente más de 300.000. En cuanto a la cuestión del lugar ya estaba asumido que el hombre moderno viene de África en general, y no solo de un pequeño jardín del edén en un sitio concreto".
Las excavaciones de Jbel Irhoud, iniciadas en 2004 dieron con los restos de cinco humanos, pero no ha sido hasta ahora cuando, mediante la datación por termoluminiscencia, se ha sabido la verdadera edad de estos 'Homo sapiens' que han agitado por completo el mapa de la evolución.
An analysis of stone tools found at the Jebel Irhoud site suggests the site is around 300,000–350,000 years old https://t.co/wXMAPJmxslpic.twitter.com/nC1iwSRWpz

— nature (@nature) 7 de junio de 2017
'Para mí lo más llamativo es ver como lo que nos conecta de una manera directa a ellos es su cara, su aspecto', destaca Hublin. La cara de estos 'Homo sapiens' es la de cualquier persona con la que nos cruzaríamos en la calle".
Hublin y su equipo han encontrado no obstante algunas voces críticas que no consideran a los seres hallados en Jebel Irhoud como 'Homo sapiens', ya que no tienen características clave como el cráneo alto o el abombamiento parietal, las cuales definen al humano moderno. La búsqueda de nuestros padres continua.