Diez desaparecidos en un choque de buques en Singapur
Comentarios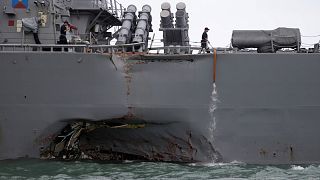 Diez marines estadounidense han desaparecido y cinco han resultado con heridas leves después de que un destructor chocara este lunes con un petrolero frente a la costa de Singapur.
Ten sailors were missing after USS John S. McCain collided with a merchant vessel near Singaporehttps://t.co/nwJioMMoV3

— Wall Street Journal (@WSJ) August 21, 2017
Es el segundo accidente que involucra a un buque de la Armada y un buque de carga en los últimos meses.
[[US Navy ship in collision]]
Trump: That's too bad.
[[SNL makes fun of him]]
Trump: pic.twitter.com/YbPeSx7l8M

— Donald J Orwell (@DonaldJOrwell) 21 août 2017
El navío de misiles guiados, el John S. McCain, navegaba por el Estrecho de Malasia poco después de la seis de la mañana (hora en Japón) en su ruta hacia Singapur cuando chocó con el mercante Alnic MC, un barco de 600 pies que transportaba petróleo y Químicos.
El destructor, que sufrió daños a babor del casco, prosigue su camino rumbo a Singapur mientras continúan las tareas de búsqueda y rescate de posibles supervivientes.
Un accidente similar ocurrió en junio con el USS Fitzgerald. Murieron 7 tripulantes de ese destructor que en un principio también fueron declarados como "desaparecidos".