Tercera denuncia por acoso sexual contra Steven Seagal
Comentarios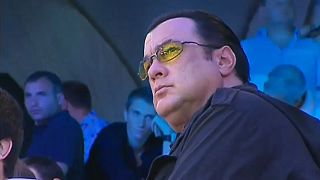 Suma y sigue la lista de acusaciones de abuso sexual contra figuras de Hollywood.
En esta ocasión, el protagonista es Steven Seagal. La actriz Portia de Rossi, que ha participado en series como Ally McBeal, contó en su cuenta de Twitter lo le ocurrió en una audición para una película de la estrella del cine de acción.
My final audition for a Steven Segal movie took place in his office. He told me how important it was to have chemistry off-screen as he sat me down and unzipped his leather pants. I️ ran out and called my agent. Unfazed, she replied, "well, I didn't know if he was your type."

— Portia de Rossi (@portiaderossi) 8 novembre 2017
"Me dijo lo importante que era tener química fuera de la pantalla, mientras me obligaba a sentarme y se bajaba la cremallera de su pantalón de cuero. Yo huí y llamé a mi agente, quien me contestó: 'Bueno, no sabía que no fuera tu tipo'".
La esposa de la comediante y presentadora Ellen DeGeneres no es la primera mujer que denuncia a Seagal. La actriz Julianna Margulies, protagonista de la serie The Good Wife, contó recientemente que el actor la invitó a hacer un ensayo en un hotel cuando ella tenía 23 años y la recibió solo y con un arma en sus manos.
L'acteur Steven Seagal (sseagalofficial</a>) à son tour accusé de harcèlement sexuel <a href="https://twitter.com/hashtag/JDQ?src=hash&ref_src=twsrc%5Etfw">#JDQ</a> <a href="https://t.co/Spwvcy9Ze6">https://t.co/Spwvcy9Ze6</a> <a href="https://t.co/J7dpQQAcOV">pic.twitter.com/J7dpQQAcOV</a></p>— Le Journal de Québec (JdeQuebec) 9 novembre 2017
A estas dos acusaciones se suma la formulada por la periodista Lisa Guerrero hace unas semanas.