La esclavitud sexual, una vergüenza para Europa
Comentarios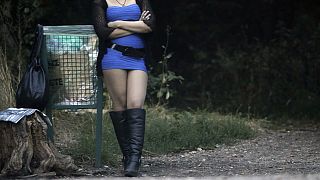 Este mes en On the Frontline analizamos la trata de blancas en Europa. Para conocer su funcionamiento y entresijos entrevistamos a un extraficante en Bucarest, que nos cuenta el método utilizado habitualmente para el reclutamiento y venta de las jóvenes. Un impresionante testimonio de primera mano.
En nuestro debate intervienen la coordinadora de la lucha contra el tráfico de personas de la Unión Europea, Myria Vassiliadou; Glyn Lewis, director del crimen especializado y análisis de Interpol, y Iana Matei, directora de investigación de Out Romania, una ONG que ayuda a las víctimas del tráfico de personas.
¿Está haciendo la UE todo lo que debe para combatir esta lacra? ¿Cómo puede identificarse a las víctimas que son forzadas a prostituirse contra su voluntad? ¿Cómo actúan estas bandas de criminales? ¿Por qué se les castiga con penas tan leves?
Encuentre las respuestas en On the Frontline.