Un mitin de Donald Trump en Albuquerque termina en batalla campal
Comentarios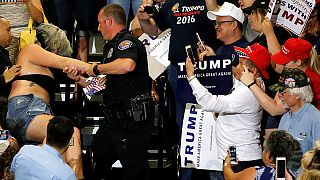 Un mitin de Donald Trump en Albuquerque terminó en batalla campal. Al menos una persona fue detenida por protestar durante el discurso del precandidato republicano a la presidencia estadounidense.
Trump, ya sin rivales, está cada vez más cerca de lograr los delegados necesarios para hacer oficial su candidatura, tras vencer este martes en las primarias del Estado de Washington.
Thank you Washington! #Trump2016#MakeAmericaGreatAgainpic.twitter.com/v9glTwj6gy

— Donald J. Trump (@realDonaldTrump) 25 de mayo de 2016
El magnate neoyorquino dijo estar seguro de poder lograr hasta el 40% de los votos de los partidarios del demócrata Bernie Sanders.
"El sistema está amañado contra Bernie Sanders, por lo que no puede ganar, pero estoy oyendo que vamos a lograr atraer a cerca de un 40% de sus seguidores. Pero tal vez a estas personas no. Saquémoslos de aquí, fuera de aquí", dijo.
Centenares de manifestantes, muchos portando banderas de México, traspasaron las vallas de seguridad, prendieron algunos fuegos y lanzaron piedras contra las fuerzas del orden. La Policía de Albuquerque ha dicho que varios agentes resultaron heridos y ha negado haber utilizado gases lacrimógenos.
Several #APD officers are being treated for injuries as a result of being hit by rocks. At least one subj arrested from the riot.

— Albuquerque Police (@ABQPOLICE) 25 de mayo de 2016
The smoke that has been seen is not tear gas, it's just smoke. We have not deployed tear gas at this time.

— Albuquerque Police (@ABQPOLICE) 25 de mayo de 2016
El discurso antiinmigración e incluso racista de Trump ha hecho que sea habitual que sus mítines estén acompañados de protestas. El pasado marzo tuvo que cancelar uno previsto en Chicago por los disturbios protagonizados entres sus detractores y seguidores.