¿Habrá debate entre Bernie Sanders y Donald Trump?
Comentarios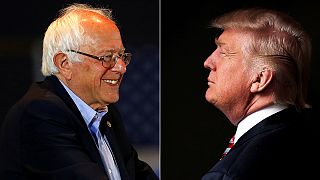 Lo que empezó como una broma ha ido tomado forma en los últimos días. Sanders, que ve cómo la candidatura demócrata a la presidencia se le escapa, busca un revulsivo para seguir vivo y nada mejor para ganar protagonismo que un cara a cara con Trump.
I am delighted that realDonaldTrump</a> has agreed to debate. Let's do it in the biggest stadium possible.</p>&mdash; Bernie Sanders (BernieSanders) 26 de mayo de 2016
El millonario ha asegurado contar con el número de delegados necesarios para ser proclamado candidato oficial de los republicanos.
Todaywe, together, won the Republican Nomination for President! https://t.co/82l6TjA2lk

— Donald J. Trump(@realDonaldTrump) 26 de mayo de 2016


"Le hemos desafiado a un debate. Veremos si lo mantiene, pero de momento dice estar listo para debatir y esto muy emocionado por ello", dijo Sanders.

En una cosa parecen estar de acuerdo el demócrata Sanders y el republicano Trump y es que este debate podría beneficiarles.

Ambos han dejado fuera a Hillary Clinton, cuya ventaja sobre Sanders de millones de votos y cientos de delegados, apunta a que será la candidata demócrata a la presidencia estadounidense.