El aeropuerto de la City de Londres quedó paralizado por una protesta antirracista
Comentarios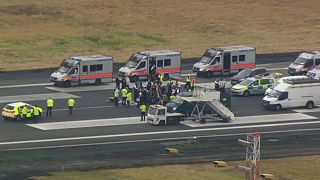 La protesta de un grupo antirracista ha tenido paralizado el exclusivo aeropuerto de la City de Londres, utilizado sobre todo por empresarios y banqueros.
Los activistas de 'Black Live Matters UK' tuvieron bloqueada desde esta madrugada la pista de la terminal y admitieron la responsabilidad de la protesta en su cuenta Twitter.
The UK is the biggest per-capita contributor to temperature change & among the least vulnerable to its affects. pic.twitter.com/Bb5SmKWyt6

— #BlackLivesMatterUK (@ukblm) 6 de septiembre de 2016
El grupo ha sido disuelto y poco a poco y el funcionamiento normal del aeropuerto debería reanudarse.
"Black Live Matters", que puede traducirse como "La vida de los negros importa" se formó tras el asesinato del adolescente negro Tryvon Martin en EE.UU. hace cuatro años.
No es la primera vez que este grupo activista provoca incidentes de este tipo. A principios de agosto, ya cortaron el tráfico de la autopista al aeropuerto Heathrow provocando numerosos atascos.
Se estima que el año pasado, unos 4,3 millones de personas utilizaron el aeropuerto de la City de Londres. El Gobierno británico desveló el pasado mes de julio un plan de más de 400 millones de euros para ampliar sus instalaciones.
Activists in support of BLMUK#Shutdown London City Airport to protest the UK's environmental impact on black people pic.twitter.com/7LvFnB9Pv3

— #BlackLivesMatterUK (@ukblm) 6 de septiembre de 2016