Yemen: EE.UU. responde a los misiles hutíes destruyendo tres de sus radares
Comentarios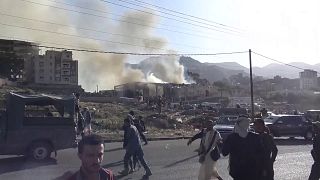 Estados Unidos ha bombardeado tres radares de los rebeldes chiíes hutíes en el Yemen, en respuesta a dos incidentes esta semana. El Departamento de Estado estadounidense ha asegurado que fue "en defensa propia". El Pentágono ha señalado que "los objetivos de los ataques fueron radares que participaron en el reciente lanzamiento de misiles" que amenazó al buque estadounidense USS Mason. Dicho destructor detectó este miércoles el lanzamiento de un misil desde territorio controlado por los hutíes, por segunda vez en cuatro días.
If you target our ships, we will respond. My statement on our strikes against radar sites in Yemen https://t.co/RPnXlr8mOz

— Peter Cook (@PentagonPresSec) 13 de octubre de 2016
An American warship struck rebel areas in Yemen after the rebels had fired on a U.S. shiphttps://t.co/yvWYmJmNpe

— The New York Times (@nytimes) 13 de octubre de 2016
Los rebeldes hutíes han incrementado sus ataques, lanzando misiles contra barcos militares y contra territorio saudí, tras el bombardeo de la aviación saudí, en Saná, durante un funeral. El ataque dejó 140 muertos y medio millar de heridos.
La ONU ha exigido una investigación internacional por posibles crímenes de guerra.
Outrageous attack on funeral makes international investigation into Yemen even more vital – UNHumanRights</a> chief <a href="https://t.co/8vSylptQPO">https://t.co/8vSylptQPO</a></p>&mdash; United Nations (UN) 11 de octubre de 2016