Violentas protestas en Atenas contra visita de Barack Obama a Grecia
Comentarios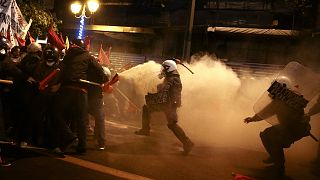 Las protestas convocadas por sindicatos y diversos colectivos contra la visita Obama han terminado en Atenas en batalla campal. Los choques estallaron cuando los manifestantes se dirigían a la embajada de Estados Unidos desde la Universidad Técnica de Atenas.
Violence in Greece following a protest against the visit of US President Barack Obama in Athens https://t.co/PbLue6um9Fpic.twitter.com/NaATVlAiyy

— Express Pictures (@Express_Pics) 15 de noviembre de 2016
" Consideramos que la política estadounidense es letal para los pueblos. Son ellos los responsables de la llamada Primavera Árabe y la intervención en Siria. Solo les preocupa el petróleo, no la gente", decía esta mujer.
Fuentes policiales hablan de la detención de tres personas. Otra protesta contra la visita del presidente estadounidense organizada por el Partido Comunista griego, transcurrió sin incidentes con la asistencia de al menos 5000 personas.