El conflicto en Siria distorsiona la agenda del G7
Comentarios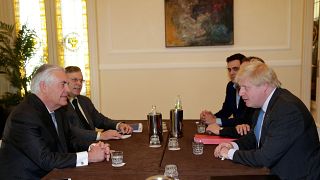 El conflicto en Siria acapara la atención de la cumbre del G7 que se celebra en Italia.
Russia's backing for #Assad main focus of talks just now w/ US Sec of State Rex #Tillerson ahead of mtg w/ #G7 counterparts in Lucca, Italy pic.twitter.com/Fhh0D0YpkC

— Boris Johnson (@BorisJohnson) April 10, 2017
Mientras el secretario de Estado estadounidense, Rex Tillerson, critica a Moscú por no haber impedido el ataque de gas de Damasco sobre la población civil, el jefe de la diplomacia británica, Boris Jonson, habla de las opciones que tiene ahora Rusia si sigue defendiendo al régimen de Bachar al Asad:
"Los rusos tienen elección. Pueden optar pegarse como una lapa al régimen de al Assad con todo lo que eso implica, un régimen tóxico que envenena a su propio pueblo, lo que enturbiaría la reputación de Rusia, o trabajar y colaborar con el resto del mundo", asegura Boris Johnson.
A la reunión del martes se unirán los ministros de Exteriores de Turquía, Qatar, Arabia Saudí, Jordania y Emiratos Árabes para discutir sobre el terrorismo jihadista, Corea del Norte, Ucrania, Irak e Irán.
Fuera de la sede, en la capital, se celebró una manifestación. Los ministros de Energía del G7 no lograron ponerse de acuerdo en una declaración conjunta sobre el cambio climático, debido a las reservas de Estados Unidos.