Peter Sagan gana su tercer tículo mundial consecutivo
Comentarios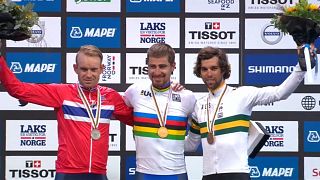 Peter Sagan ha entrado en la historia del ciclismo al conseguir el tercer título consecutivo del Mundial de Ruta
Sagan se une así a los grandes campeones que suman tres oros en esta disciplina pero él los ha conseguido de forma consecutiva.
En la última vuelta Alexandre Kristoff ha hecho un último esfuerzo que casi le vale un oro pero no, Sagan se lo llevó.
El campeón, Peter Sagan, comenta:
"Kristoff competía en casa y lo siento por él pero estoy muy contento de volver a ganar, es inimaginable".
Thank you! Let's keep working hard together to make our cities more accessible to cyclists! #HealthyLiving#Cities4Bikinghttps://t.co/EKwgL9Xl5e

— Peter Sagan (@petosagan) 24 septembre 2017
La prueba llegó con un gran pelotón en cabeza a los últimos 12 km y se decidió en una llegada de un grupo de 26 corredores.