Hamburgo celebra el 60 aniversario de The Beatles
Comentarios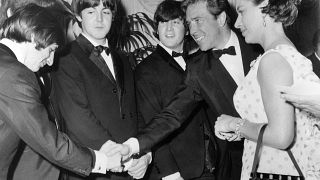 Derechos de autor

AP/1965 AP
Hamburgo celebra el 60 aniversario de The Beatles. Fue un 17 de agosto cuando el mítico grupo comenzón a tocar en Hamburgo en 1960. Al principio eran cinco integrantes junto a John Lennon, Paul McCartney y George Harrison, tocaban Stuart Sutcliffe al bajo y Pete Best a la batería, que fue reemplazado por Ringo Starr en 1962.
Los fans de los Beatles, tienen en Hamburgo un lugar de peregrinación. Exactamente en el Club Indra del barrio rojo de San Pauli. Allí el cuarteto de Liverpool lanzó su carrera musical internacional en Alemania.
Harrison tenía solo 17 años en ese momento, por lo que tuvo que mentir sobre su edad a las autoridades alemanas para obtener permiso para permanecer en el país
La transmisión de "Stream and Shout" en pantalla gigante y también por FaceBook y Youtube presenta un programa de rock and roll único con algunos de los grandes éxitos y canciones legendarias de los Beatles.