Courtney Love, víctima de los taxistas parisinos, tuitea su agresión
Comentarios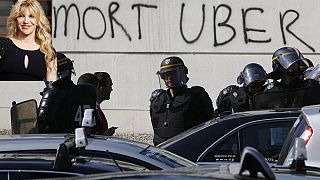 La artista estadounidense Courtney Love ha sido atacada por un grupo de taxistas este jueves en París durante una acalorada protesta contra la aplicación UberPop de transporte de pasajeros.
Las acciones de los taxistas franceses contra el sistema Uber (prohibido en España) son cada vez más violentas. Este jueves han bloqueado los accesos a estaciones de tren y aeropuertos de todo el país. En los últimos días, conductores de Uber e incluso clientes han sido agredidos.
Courtney Love intentaba abandonar el aeropuerto Charles de Gaulle de Paris en un vehículo privado y a "tuiteado" su experiencia al cantante Kanye West que seguía en el aeropuerto.
Dude kanyewest</a> we may turn back to the airport and hide out with u.picketers just attacked our car <a href="https://twitter.com/hashtag/ParisUberStrike?src=hash">#ParisUberStrike</a> <a href="http://t.co/MtanurybOO">pic.twitter.com/MtanurybOO</a></p>&mdash; Courtney Love Cobain (Courtney) June 25, 2015
Colega, @kanyewest igual volvemos al aeropuerto y nos escondemos contigo. Los piquetes han atacado nuestro coche #ParisUberStrike
El nivel de tensión que se respira en Francia en torno a este asunto tomó a la cantante por sorpresa.
they've ambushed our car and are holding our driver hostage. they're beating the cars with metal bats. this is France?? I'm safer in Baghdad

— Courtney Love Cobain (@Courtney) June 25, 2015
Han bloqueado nuestro coche y han tomado al conductor como rehén. Están golpeando coches con bates. ¿Esto es Francia?? estoy más segura en Bagdad
La artista fue cambiando el miedo y la sorpresa iniciales por la rabia, apelando incluso al presidente Hollande.
François Hollande where are the fucking police??? is it legal for your people to attack visitors? Get your ass to the airport. Wtf???

— Courtney Love Cobain (@Courtney) June 25, 2015
François Hollande Dónde está la j****a policía? ¿Es legal que tu gente ataque a los turistas? Mueve el culo hasta el aeropuerto
Consiguió escapar de los taxistas en una moto que consiguió no sin dificultades.
paid some guys on motorcycles to sneak us out, got chased by a mob of taxi drivers who threw rocks, passed two police and they did nothing

— Courtney Love Cobain (@Courtney) June 25, 2015
He pagado a unos tipos en moto para que nos sacaran de allí. Nos persiguieron taxistas que nos tiraron piedras. Hemos pasado junto a dos policías que no han hecho nada
También ha publicado un video en Instagram.