Insólitos: túneles para tortugas, luna de miel como trofeo y Gollum-Erdogan, un insulto en los tribunales ...
Comentarios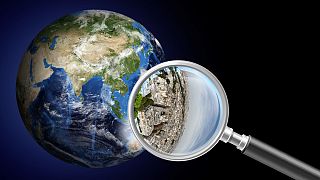 Japón construye túneles para las tortugas
La compañía de ferrocarriles de Japón ha ideado una magnífica manera para evitar que las tortugas sean aplastadas por un tren cuando cruzan las vías construyendo túneles bajo los raíles. Este tipo de incidentes causaba retrasos en las comunicaciones ferroviarias. Este proyecto ha sido desarrollado en cooperación con el parque acuático Suma en Kobe.
Japan has built special tunnels to save turtles from train deaths https://t.co/254y5kkyCV

— The Independent (@Independent) December 2, 2015
---
Tailandia : luna de miel como trofeo
Un centenar de parejas han participado en el torneo anual "Running of the Brides 4" este sábado en Bangkok. El premio, una boda con luna de miel incluida valorada en 25 000 euros.
[Picture of the day] The "Running of the Brides" race in #Bangkok#Thailandhttps://t.co/XVvImDOQlhpic.twitter.com/Bxymv4RXmS

— euronews (@euronews) November 28, 2015
---
El misterio de los coches voladores
Este video de la cadena CCTV en el que se ven vehículos saltando por el aire ha copado las redes sociales. Solo que el video tiene truco: justo antes de que el minibús se alzara por los aires, puede verse una línea negra a la izquierda de la pantalla, la policía cree que se trata de un cable.
---
Los jueces decidirán si Gollum es un insulto o no contra Erdogan
Un tribunal turco ha pedido a varios expertos que analicen el carácter del personaje de Gollum del Señor de los Anillos en el caso de Bilgin Ciftci, acusado de haber insultado al presidente turco al compartir fotografías en las redes sociales en las que se compara a Erdogan con Gollum.
this one is getting Turkish twitterati into trouble: govt suing over Gollum/Erdogan comparison pic.twitter.com/O640fmY5hy

— BenAris (@bneeditor) December 2, 2015
A man is on trial in Turkey for comparing President Erdogan to Gollum. I don't see the resemblance. pic.twitter.com/tfyTU7zW8S

— ian bremmer (@ianbremmer) December 2, 2015
---
Francia: tierras de Palmira en venta
Dos senadores franceses han descubierto al escudriñar las finanzas del Estado que el gobierno puso en venta en 2012 unos terrenos en la ciudad de Palmira propiedad del Estado francés. Los funcionarios han olvidado poner al día los activos del Estado puesto que esta ciudad de Siria cayó hace unos meses en manos de Dáesch.
---
Un policía estadounidense detiene a un burro
Después de arrestar a alguien, la mayoría de los policías soñarían con un sospecho tan dócil como el que ocupa el asiento trasero de este coche de patrulla de la policía de Oklahoma.
Don't even think about it, cityofokc</a> "<a href="https://twitter.com/normanokpd">normanokpd officer rescues, transports a donkey in need: https://t.co/28imFW0Oyj "

— Hefner Canal Goats (@hefner_goats) December 1, 2015