26 heridos en un accidente de autobús en Londres
Comentarios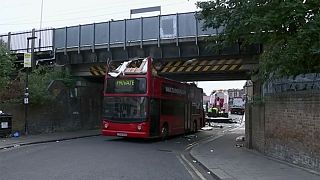 En Londres 26 personas han resultado heridas después de que un autobús chocara contra un puente ferroviario. El impacto fue de tal dimensión que arrancó parte del techo del vehículo de dos pisos.
Pictures of the bus crash in st loys road Tottenham n17 pic.twitter.com/wIsNHPf8iW

— Tony Hardiman (@TonyHardiman1) 22 de octubre de 2016
Los servicios de emergencia tuvieron que liberar a tres pasajeros que habían quedado atrapados en la cubierta superior del bus. El suceso ocurrió a las 4 de la mañana cuando el vehículo viajaba por Tottenham, al norte de Londres.