Trump pone en riesgo la relación con China por aceptar una llamada de la presidenta de Taiwán
Comentarios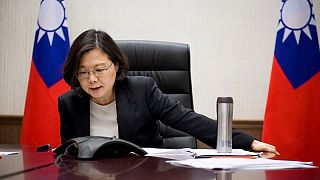 Fue el propio presidente electo de Estados Unidos quien lo hizo público en las redes sociales. En su cuenta de Twitter escribió que la presidenta, Tsai Ing-wen, le llamó para felicitarle por ganar la presidencia y que algunos le critican por aceptar la llamada cuando Estados Unidos vende a Taiwán equipamiento militar por miles de millones de dólares.
The President of Taiwan CALLED ME today to wish me congratulations on winning the Presidency. Thank you!

— Donald J. Trump (@realDonaldTrump) 3 de diciembre de 2016
Interesting how the U.S. sells Taiwan billions of dollars of military equipment but I should not accept a congratulatory call.

— Donald J. Trump (@realDonaldTrump) 3 de diciembre de 2016
Aunque en un primer momento restó importancia al asunto, ahora Pekín ha presentado una protesta formal ante Washington. Las relaciones entre Taiwán y Estados Unidos están congeladas desde hace casi 40 años, cuando Washington se comprometió con Pekín con la política de "una sola China".
"La charla entre la presidenta Tsai y el presidente electo Trump no solo fue amistosa", dijo el portavoz presidencial taiwanés. "También compartieron sus puntos de vista sobre futuras políticas y especialmente, sobre la mejora del desarrollo económico local y el fortalecimiento de la defensa nacional.
Las relaciones entre Taiwan y China y Taiwan y Estados Unidos pueden continuar en paralelo, no supone un conflicto".
La llegada al poder de Tsai el pasado enero ha tensado más la situación entre China y Taiwán. Pekín exige a la nueva presidenta que reconozca que la isla es parte de China.