Dan Coats será el director de inteligencia de EE. UU.
Comentarios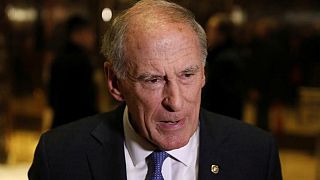 Según medios locales, el exsenador fue elegido para convertirse en el próximo titular de la Dirección Nacional de Inteligencia en la Administración de Donald Trump.
El responsable de esa dirección es el principal asesor presidencial en temas de inteligencia y supervisa y coordina todas las acciones militares y civiles de los servicios de información y espionaje del país. Un puesto clave en el organigrama presidencial.
BREAKING: AP Source: Trump selects former Indiana Sen. Dan Coats as director of national intelligence.

— The Associated Press (@AP) 5 janvier 2017
Donald Trump, que asumirá el cargo el próximo 20 de enero, debe elegir aún a los titulares de las secretarías de Agricultura y Asuntos de Veteranos para completar su equipo de Gobierno.