La lucha contra la contaminación marca la celebración del Año Nuevo Lunar en China
Comentarios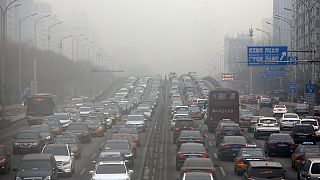 Pekín han declarado la guerra a los fuegos artificiales que tradicionalmente se utilizan durante este festejo, dado el humo y la niebla que provocan en una atmósfera ya de por sí contaminada.
Las autoridades han limitado su venta en la capital y algunas regiones los han prohibido totalmente.
CHINA – An elderly woman wearing a home-made mask walks past lanterns hung ahead of the Lunar New Year at a park in Beijing. By Wang Zhao pic.twitter.com/ADuDzY6IXO

—

AFP

Photo (@AFPphoto) 17 de enero de 2017
El país, especialmente el norte, más industrializado, sufre una contaminación prácticamente crónica, debido a la alta densidad de su tráfico y a las emisiones de una industria espoleada por el rápido crecimiento económico del país.
Ante el riesgo para la saludad de sus ciudadanos, medidas como limitaciones a la circulación de vehículos e inspecciones en fábricas contaminantes se han convertido en algo habitual.