La tormenta Doris se cobra una vida y lleva el caos al Reino Unido
Comentarios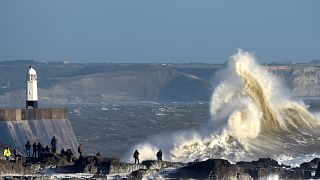 La tormenta Doris se ha cobrado al menos una vida y ha llevado el caos al Reino Unido. La víctima es una mujer que falleció en plena calle en Wolverhampton, en las afueras de Birmingham, al ser golpeada en la cabeza por la caída de escombros.
Con lluvias y vientos violentos, de hasta 150 kilómetros por hora, Doris ha provocado retrasos y cancelaciones en trenes y aviones, así como el cierre del puerto de Liverpool.
El aeropuerto londinense de Heathrow, el mayor del país, ha anulado un 10% de los vuelos programados.
Strong winds forecast tomorrow are expected to cause some delays and cancellations. Please check your flight status: https://t.co/zOqJyQR48Tpic.twitter.com/XY5yQFrtNt

— Heathrow Airport (@HeathrowAirport) 22 de febrero de 2017
A los automovilistas se les ha instado a extremar las precauciones y, en algunos casos, a retrasar o cambiar sus planes.
La tormenta Doris afecta a todo el Reino Unido, de norte a sur y de este a oeste.
TSUNAMI of FOAM hits Blackpool as Storm Doris whips up waves with 90mph gales https://t.co/ElXfZNta1Npic.twitter.com/0vvUF8ogaB

— Daily Express (@Daily_Express) 23 de febrero de 2017
En Irlanda del Norte, 20.000 hogares estuvieron privados de electricidad.
La nieve ha complicado el día a los habitantes del noroeste de Inglatera y a los de Escocia, donde una autopista tuvo que ser cerrada temporalmente.
Doris ha sido calificada por los expertos de "bomba meteorológica".
#StormDoris has rapidly deepened over the last 24 hours as it has under gone what we call Explosive Cyclogenisis making it a #WeatherBombpic.twitter.com/U7VI7WDGtT

— Met Office (@metoffice) 23 de febrero de 2017
View #StormDoris from space with this satellite image showing her moving eastwards across the UK pic.twitter.com/Oa3ELPaMBj

— Met Office (@metoffice) 23 de febrero de 2017