Estado de emergencia en la capital del Yemen por cólera
Comentarios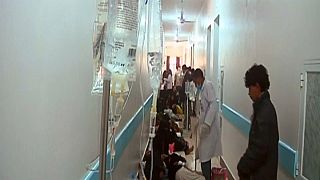 Una epidemia de cólera agrava aún más la crisis humanitaria en el Yemen. Las autoridades rebeldes han declarado el estado de emergencia en la capital, Saná, después de que esta enfermedad contagiosa se haya cobrado 115 vidas en las últimas tres semanas. En las últimas dos, se han contabilizado casi 2.600 nuevos casos en distintos barrios de la ciudad, 8.500 en todo el país. Hace apenas cuatro días, el balance que difundía UNICEF a través de Twitter era de "solo" 51 muertos.
The upsurge of #cholera/ acute watery diarrhea in #Yemen has claimed 51 lives and caused more than 2750 suspected cases in 2 weeks. pic.twitter.com/rFTlczMjNS

—

WHO

Yemen (@WHOYemen) 11 mai 2017
¿Cuándo fue la última vez que viste pacientes bajo las camas y en pasillos de un hospital? Grave brote de cólera en #Yemen. Vía afaiteICRC</a> <a href="https://t.co/FnsPttc9St">pic.twitter.com/FnsPttc9St</a></p>— CICR (CICR_es) 13 mai 2017
Dos años de guerra civil entre los rebeldes chiíes hutíes y las fuerzas leales al presidente Abdo Rabu Mansur Hadi han sumido al Yemen en una de las peores crisis humanitarias del planeta. La hambruna acecha a 17 millones de personas y medio millón de niños sufren desnutrición severa aguda.

#Yemen: Humanitarian catastrophe looms with over 3.3m displaced since crisis started UNmigration</a> <a href="https://t.co/d0VgCGsTjX">https://t.co/d0VgCGsTjX</a></p>— UNICEF (UNICEF) 27 avril 2017
Los daños sufridos en las infraestructuras y en el sistema sanitario favorecen la aparición de brotes epidémicos.