Winnie The Pooh censurado en las redes sociales chinas
Comentarios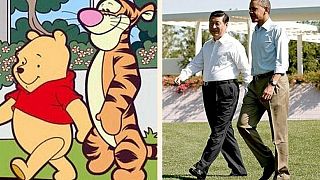 El dibujo animado Winnie The Pooh ha sido censurado en China. Así lo recoge la edición de hoy del diario británico Financial Times, que muestra una foto en la que se compara al famoso osito con el presidente Xi Jinping en una visita con Barack Obama en 2013.
A bear, however hard he tries, falls foul of Chinese censors' eyes https://t.co/5MmWgpSwbJpic.twitter.com/ZtfpVHTPjh

— Financial Times (@FT) 17 juillet 2017
A unos meses del próximo congreso del Partido Comunista de China, los censores del Gobierno blindan la imagen del presidente, que debería ver su mandato prolongado. Varias redes sociales chinas como la plataforma Sina Weibo o la aplicación de mensajería Wechat, consideran toda alusión al personaje como contenido ilegal.