Turquía entra en la guerra en Siria bombardeando tres posiciones del grupo Estado Islámico
Comentarios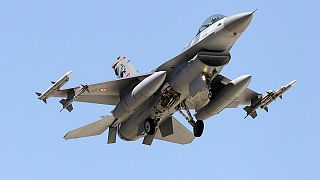 Turquía bomardea por primer vez posiciones del grupo Estado Islámico en Siria y da un giro de 180 grados a su posición con respecto a la guerra en aquel país.
Tres F16 de Ankara han traspasado la frontera y neutralizado tres objetivos: dos cuarteles generales y un punto de reunión. Han usado la base de Diyarbakir, en el sur del país. La operación ha recibido el nombre del oficial que perdió la vida en un ataque del EI el jueves contra un un puesto fronterizo turco en la provincia de Kilis, que causó además heridas a dos militares más. En el tiroteo murió también un yihadista.
Estos enfrentamientos y el atentado de hace tres días en Suruç, también cerca de la frontera y de Kobane en el que murieron más de 30 jóvenes activistas, ha marcado el cambio en la postura de Turquía, que ha alcanzado un acuerdo con Estados Unidos, tras varios meses de insistencia de Washington, para que varias bases en territorio turco sean utilizadas para los ataques aéreos contra los yihadistas.
Turkey agrees to let the U.S. military launch strikes against ISIS from Turkish soil http://t.co/CBoeTAVbBTpic.twitter.com/S7iGd9uHz5

— Wall Street Journal (@WSJ) July 24, 2015
No hay confirmación oficial sobre esto último por parte de las autoridades turcas porque no está permitido por ley dar esta información, explican desde el servicio turco de euronews.